Whiten
Teeth

Today With Your Lansdale Dentist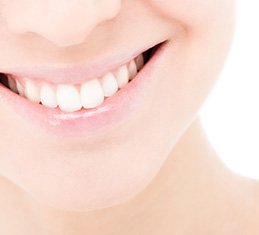 Have you ever met someone and couldn't stop staring at their bright, white teeth? You may have wondered how they got such impossibly white teeth. And maybe you've been wondering how you, too, can get such bright white teeth.
Our experienced Lansdale cosmetic dentists and caring, well-trained team at Kevin Bass DMD Cosmetic and Family Dentistry near North Penn and Montgomeryville are here to whiten teeth with our excellent tooth bleaching systems. We want to give you the smile you've always wished for!
Causes of Discolored Teeth
Over time most everyone's teeth will become stained and discolored. Generally, once this has occurred, brushing alone cannot remove the stains. Some of the most common causes of discolored teeth include:
Smoking
Certain foods and beverages, such as coffee, tea, or red wine
Aging
Certain medications
Teeth Whitening Services We Offer:
ZOOM!® | Zoom teeth whitening is an amazing process; it can whiten teeth in only one office visit! The tooth bleaching process is very simple and quite painless. We prepare your gums and lips, then paint on a tooth bleaching gel. A special teeth whitening light is shone onto the tooth bleaching gel. This process to whiten teeth is repeated several times as you sit in one of our comfortable chairs. The teeth whitening takes about an hour to whiten teeth. You walk in with a smile that is dull and walk out of our Lansdale office with a smile that is dazzling. Zoom teeth whitening can lighten your smile up to four shades or more.
NITE WHITE® AT-HOME TEETH WHITENING | With the Nite White at-home teeth whitening system, we make a mold of your teeth. With that mold, we create a custom plastic tray that fits over your teeth. Every night for several nights to a week or two, you put the Nite White® at-home tooth bleaching gel into the custom trays and leave them on all night to whiten teeth. Gradually, your teeth become whiter. The Nite White® at-home teeth whitening system can be used alone or as a follow up to the Zoom tooth bleaching system to whiten teeth and keep your smile fresh and bright.
Schedule a Teeth Whitening Appointment in Lansdale!
Teeth whitening is one of the most popular cosmetic dentistry procedures for a reason. The results are quick and amazing! If you are ready to brighten your smile, call our office serving the Lansdale, Montgomeryville, North Penn, and surrounding areas today! For a more permanent tooth whitening solution, we also offer beautiful, brilliant porcelain veneers!