Dental Veneer Solutions With Your North Penn Dentist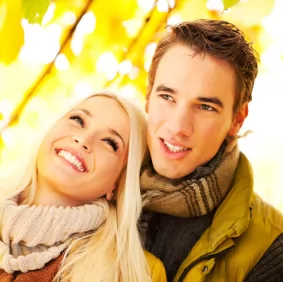 Do you have a tooth or teeth that are cracked, chipped, misshapen or discolored or do you have a gap between your teeth? There are several cosmetic dentistry treatments available to repair these issues. One we offer in Lansdale, and recommend, is porcelain veneers.
What are veneers for teeth? Porcelain veneers are thin porcelain shells that are bonded to your teeth. Though you may think they are delicate because they are made from porcelain, veneers for teeth are actually a very sturdy and durable solution for our patients in the Montgomeryville and North Penn area.
What can veneers for teeth be used for?
A dental veneer can cover up cracks, chips, discoloration or a misshapen or small tooth. A dental veneer can also cover up a gap between two teeth.
Porcelain veneers can be used on one tooth or many. If used for all the teeth that show in your smile, porcelain veneers can lighten your smile in Lansdale by using veneers for teeth that are all a bit lighter than your natural teeth.
Porcelain veneers are custom made so they are the right shape and size for our patients in the Montgomeryville and North Penn area. Veneers for teeth are also custom color matched so they will look natural in your smile. A

dental veneer

will not look like the odd tooth out or fake.
Veneers for teeth are remarkably natural-looking. The difference between your natural tooth and the dental

veneer

can be quite astounding. Veneers for teeth can be used to give you straight, unblemished teeth in a uniform smile.
The Porcelain Veneers Process
The process for bonding veneers for teeth is quite simple. Our Lansdale dentist will take a mold of your mouth and then send the information obtained from that mold to a porcelain veneers lab. The dental veneer lab technicians create your porcelain veneer specifically for you.
Once your cosmetic dentist near Montgomeryville receives the veneers for teeth, he will scrape a small bit off the tooth or teeth receiving the porcelain veneers. Then he will size the dental veneer to your tooth and may need to make small adjustments. Then, he will bond the porcelain veneers to your teeth and again make small adjustments to them. Then, you have a beautiful, uniform smile.
For a gorgeous smile that you may absolutely love, call our office serving the Montgomeryville, North Penn, Lansdale and surrounding communities today to schedule your dental veneer appointment! We also offer quick and easy prepless porcelain veneers if you feel traditional veneers for teeth aren't the right choice for you!